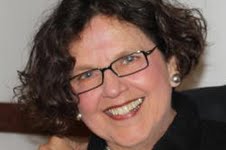 Karen Calkins Ragus
Artist Statement
These current paintings begin without reference and sidestep mere descriptions, rules and regulations. Instead, they begin with my visual voice expressing emotions and feelings, imagination, energy, spontaneity, freedom, intuitive mark making, and the vigorous use of materials.
The process of layering marks and material is important in these works. The paintings morph from one stage to another, from chaos to semblance of order, all through erasing and replacing, veiling and unveiling, emerging and submerging, playing hide and seek with the many marks and passages of color that went before. All of this underpainting suggest the passage of time, leaving a rich history behind to engage the viewer and to satisfy my senses.
RECENT EXHIBITS
2013 Ploch Gallery, Sharon Wilson Arts Center, Waukeshaw, WI Semi-solo show.
2012 SRAM pART Project, Cedar Lake Theater, Chelsea District, New York, NY First place award in collage category. Group show.
2011 - 2013 Delafield Arts Center, Delafield, WI Group shows.
2010 - 2013 Museum of Wisconsin Art, West Bend, WI Group shows. Awards.
2009 - 2013 Lake Mills Arts Center, Lake Mills, WI Represented by.
2008, 2009, 2012, 2013 Guenzel Gallery, Peninsula School of Art, Fish Creek, WI Group shows. Awards.
2008 International Society of Acrylic Painters Online Show Juried group show.
2007, 2009 Hardy Gallery, Ephraim, Door County, WI Juried group shows.
2007 - 2009 League of Milwaukee Artists, Milwaukee, WI. A variety of venues, award.
2006 - 2013 Earth, Wood and Fire Artist Tour, Jefferson Co., WI Lake Mills Arts Center, Lake Mills, WI. Solo show.
2006 Paint Box Gallery, Sister Bay, Door County, WI Represented by.
2004 - 2006 Gallery Ten, Gills Rock, Door County, WI Represented by.
2004 Art Beat Gallery, Madison, WI Solo and group show.
2002 - 2010 Open Art Studio Tour, Madison, WI Personal studio/gallery.
2001 Wall Patch Show, Common Wealth Gallery, Madison, WI Group show.
UPCOMING EXHIBITS
May 2-July 12, 2014, Guenzel Gallery, Peninsula School of Art, Fish Creek, WI,"5 Objects of Inspiration" group show
Ongoing - Open Gallery, Lake Mills Arts Center, Lake Mills, WI, represented by.
October 25-26, 2014, Earth Wood & Fire, Artist Tour, Jefferson County
EDUCATION
Bachelor of Arts, Art Education, University of Wisconsin, Madison, WI
Masters, Adult Vocational Education, University of Wisconsin Stout, Menominee, WI
Santa Fe Printmaking Center, Santa Fe, NM with Ron Pokrasso
White Bear Art Center, White Bear, MN with Lana Grow
Atlantic School of the Arts, New Smyrna Beach, FL with Steven Aimone
Steven Aimone, Monhegan Island, ME
Art Sarasota, Sarasota, FL studied with Bob Burridge
Morean Arts Center, St. Petersburg, FL
Center Avenue Studio, Jefferson, WI with Terrance Coffman
WORK
Artist
Founder and educator, Lake Mills Arts Center, Lake Mills, WI
Interior designer, Karen Ragus and Company, Madison, WI
Owner and director of Little Church Gallery, Columbus, WI
Elementary, secondary and adult art teacher, Columbus Public Schools,
Instructor at Peninsula School of Art, Wilson Arts Center, Lake Mills Arts Center